Upcoming Events
American Farmland Trust is hosting Women for the Land Learning Circles across the nation!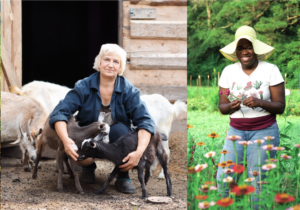 At Learning Circles, women in agriculture gather to hear from each other and agricultural resource providers in their local communities. To gain insight into the learning circle model, click here to listen to a few testimonials from women learning circle participants. Information is shared on practices and programs that support soil health, water quality, climate resilience, farm viability, and/or legacy planning. AFT will primarily host these gatherings online in the coming months to keep producers and landowners safe during the COVID-19 pandemic. Some gatherings or portions of gatherings may be hosted in-person, as conditions allow. These learning circles are free to attend.   
Scroll down to register for an event in your area!
– CALIFORNIA –
DATE CHANGED DUE TO WIND EVENT & OUTAGES: Tuesdays, January 26th and February 2nd, 2021 from 3-5 pm Pacific
Virtual Learning Circle – Farmland Succession Planning: Aligning values and tools to facilitate access for the next generation.
AUDIENCE: Women farmland owners and land-seekers across the state.
WHERE: ZOOM
WHAT:This gathering will help women landowners identify the values and priorities guiding their succession planning efforts and explore their options. Women will participate actively, reflecting on their own situation and articulating their goals. We'll discuss how agricultural conservation easements may play a role in making farmland more accessible for the next generation, whether to family heirs, or non-relative farmland seekers. Women farmland seekers are also invited to participate to better articulate their goals and learn more about the different types of farmland transfer scenarios. Landowners and land-seekers will gain . . .
A clearer focus on what's important for their land (identify your values to articulate your goals and priorities)
A better understanding of the jargon/vocabulary around land transfer, succession/estate planning, particularly the potential role of Ag Conservation Easements in those processes;
Increased awareness of non-relative transfer options
A better understanding of who to utilize for help
SPEAKERS:
Caitlin Joseph, American Farmland Trust
Alison Volk, American Farmland Trust
Kara Heckert, Alison Volk, American Farmland Trust
Liya Schwartzman, CA Farmlink
Elizabeth Palmer, NRCS
Información del evento en español aquí