Upcoming Events
American Farmland Trust is hosting Women for the Land Learning Circles across the nation!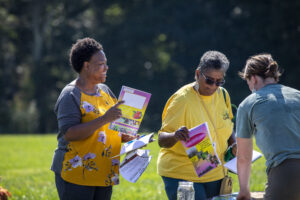 At Learning Circles, women in agriculture gather to hear from each other and agricultural resource providers in their local communities. To gain insight into the learning circle model, click here to listen to a few testimonials from women learning circle participants. Information is shared on practices and programs that support soil health, water quality, climate resilience, farm viability, and/or legacy planning. These learning circles are free to attend.   
Scroll down to register for an event in your area!
— OREGON —
WHAT: Learning Circle – Building Community and Range Resilience
WHEN: June 16, 10am – 4pm
WHERE: 6 Ranch, Enterprise, OR
DESCRIPTION: Join AFT at this in-person event in collaboration with 6 Ranch, Northeastern Oregon Economic Development District (NEOEDD), USDA Natural Resource Conservation Services (NRCS), Oregon Climate & Agriculture Network (OrCAN), Quivira Coalition, and the USDA Northwest Climate Hub. Details and schedule coming soon! Space is limited. For any event or project related questions, contact Chantel Welch, PNW Project Manager (cwelch@farmland.org).
— NEW YORK —
WHAT: Learning Circle on Farmland Preservation & Land Access
WHEN: Wednesday, July 13th, 9:30 AM-3:30 PM
WHERE: Wild Hill Farm 2176 Elton Rd, Bloomfield, NY 14469
DESCRIPTION: Every day 2,000 acres of agricultural land are paved over, fragmented, or converted to uses that jeopardize farming. Within the next 15 years, 40% of farmland ownership will be in transition, putting both family farmers and the land they steward at risk. Meanwhile, would-be farmers often can't afford to enter the field and are out-competed for agricultural land by developers and investors intent on converting the land into something more profitable than a family farm.
Over half of this land is owned by women, but they face considerable barriers in protecting their farmland and connecting to the next generation of farmers. Here in western New York, AFT is working to bring these women together through open dialogues about working lands, hands-on experiences, and connecting local service providers to the women they serve. We help address questions you might have when considering conservation options for your land. Open to all women involved with New York agriculture, AFT invites you to join us for a discussion on farmland preservation and land access, hosted by our newest woman-led Demonstration Farm, Wild Hill.
For those who cannot attend the in-person farm tour, we will have a virtual meeting covering the same topics later in July (date and time TBD).
Facilitators: Stephanie Castle, AFT
Erin Bullock, Owner, Wild Hill Farm
Deanna Gentner, Ag Economic Specialist, Cornell Cooperative Extension
Amanda Grisa, Farmland Protection Specialist, Genesee Land Trust